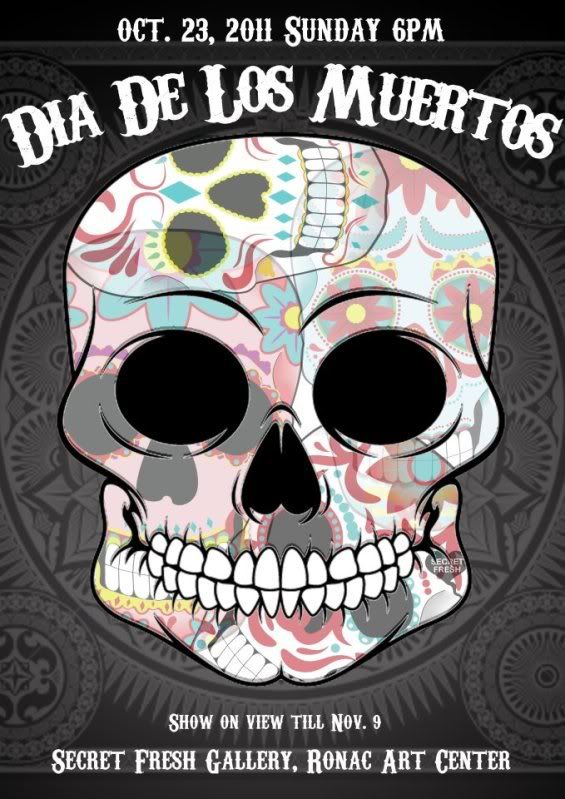 DIA DE LOS MUERTOS
Opening : October 23 Sunday 6PM
Show Duration : 23 October – 18 November 2011
Secret Fresh Gallery, Ronac Art Center, Ortigas Avenue, Greenhills, San Juan
Participating artists :
A.lien, Albert Sy, Alvin Capistrano, Alvin Zafra, Archie Geotina, Argie Bandoy, Arnold Austria, Beejay esber, Bembol dela Cruz, Bjorn calleja, Carina Santos, Chati Coronel, Christian Tamondong, Clint Catalan, Cos Zicarelli, Dave Lock, Deejae Paeste, Garapata Boy, Dexter Sy, Don Dalmacio, Edric Go, Epjey Pacheco, Frederick Sausa, ChillS Project, Ferdz Valencia, Gail Vicente, Gani Simpliciano Genepol Martin, Gino Javier, Goldie Poblador, Heidi Franco, Hepe, Ian Jaucian, Igan D'Bayan, Ino Caluza, Jacob Lindo, Jason Tecson, Jayson Oliveria, Jed Escueta, Jigger cruz, JJ Zamoranos, Joey Cobcobo, Joseph Tecson, JP Cuison,JP Tria, Kat Medina, Kiko escora, Lea Lim, Luis Santos, Lynyrd Paras, Marc Gaba, Mark Salvatus, Marija Vicente, Marvin Tojos, Mica Cabildo, Mike Crisostomo, Nemo aguila, Rain Dial, Ryan Villamel, Rolf Campos, Sam Kiyoumarsi, Tanya Villanueva, Tawnie Tantay, Tin Garcia, Tripp, Ungga, Vermont Coronel, Veronica Peralejo, Whoop, Yason Banal, Yeo Kaa and Zeus Bascon.
The show's title takes off from the more festive Mexican version of our own Todos Los Santos (which is mistranslated in the vernacular as Araw ng mga Patay or as Undas).

Their persistence in being represented in the arts or in every platform of representation in our visual culture seem symptomatic of our fascination for and for our grasping for our fleeting mortality, hence being more than symbols of death, skulls also signify the preciousness of life that we all have to hold on to as dear and celebrate it for the fullness achieved in living it.

Of this existentialist exercise of pondering upon the calcic armature that supports the drapery of flesh and tissue which has been made as a yearly ritual/feast , does it ere yonder reveal our precarious hold on our mortality? We celebrate, we gorge on the deluge of tenuous emotions of sorrow and merriment, but tis the vanity or is it not we just prolong the eventuality of our inescapable end. The themes we like to portray in the pictures we like to hang on our walls seem to bespeak of such. We ponder and wonder but it's both a miracle and an abomination. Alas, these are portraits of our very frail shells. We fill them up instead with the spirit of infinite jest.

A hundred cast resin skulls lined up on a shelf each customized by various artists as diverse as their age, cosmological outlook and style flesh out this philosophical point aside from the numerous drawings, paintings, prints and other sculptural works to complement the aforementioned custom skulls.

Dia De Los Muertos will have its opening on October 23 Sunday at 6PM and will be on view until November 18, 2011.

Secret Fresh is at Ronac Art Center, Ortigas Avenue, Greenhills, San Juan, Metro Manila.

Secret Fresh is open from Mondays to Saturdays from 2-10 PM and Sundays from 1-6 PM.

You may also check out Secret Fresh online - http://www.freshmanila.blogspot.com/ or http://www.twitter.com/freshmanila or Secret Fresh on Facebook for the latest updates.