UP Cinema invites you to watch the Cinemalaya Cinco entry "Mangatyanan". Screening is on July 31,2009 (Friday), 7pm at UP Cineadarna (Film Institute)
Tickets sold at 80 pesos only. Just text Chad - 09164168768 for reservations.
For the trailer:
see http://www.youtube. com/watch? v=rZX6oAugj2M
Cinemalaya presents
in association with Bigtop Media, Casa San Miguel and Metric Films
a John Silva/Franco Alido production
a film by Jerrold Tarog
second film of the CAMERA Trilogy
MANGATYANAN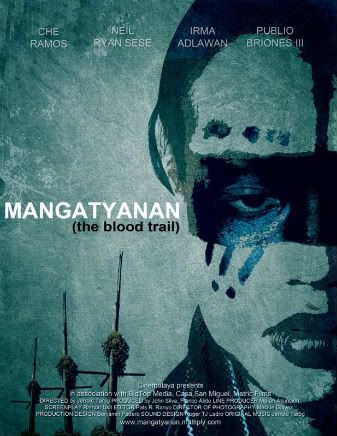 Synopsis:
HIMALAYA "Laya" MARQUEZ has never had a complete dream since she was 12. Something always wakes her up at night. That something used to be her father, the famous photographer DANILO MARQUEZ, whose constant sexual abuse of Laya tore her family apart.
Now, at 27, Laya possesses a cold exterior that hides torrents of pain. Working as a travel photographer, Laya is sent to Isabela to capture a rare harvest ritual called Mangatyanan by the Labwanan tribe. What Laya finds there, however, is a severely dwindled group held together by their desperate leader MANG RENATO. As Laya feels a connection between the tribe's predicament and her own troubled life, a series of events soon brings her hidden emotions to the surface.
Will she finally face her demons or will she keep running?